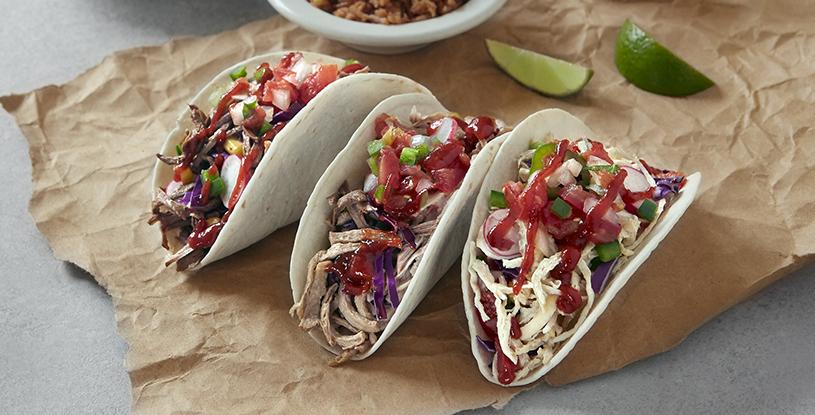 Science Inside
Plant-Based "Meat" Lab Supports, Speeds New-Product Development
Replicating the texture, mouthfeel and appearance of animal protein presents a unique challenge for food formulators developing plant-based meat alternatives. Achieving that "just-right" formulation for success requires endless testing, re-testing and experimentation.
For many companies seeking entry into plant-based products, there may be an additional challenge: Lacking the manufacturing facilities to test how their formulations would hold up during production, they must turn to contract manufacturers or university research departments to test and produce prototypes.
Recognizing this need, MGP Ingredient Solutions invested in a "Meat" Lab at its Technical Center in Atchison, Kansas, capable of producing small runs of plant-based meat alternatives and blends using its ProTerra® textured wheat and pea proteins. The company's R&D team regularly works in this applications lab to produce prototypes of faux meat patties, sausages, crumbles, nuggets and more to help customers assess ProTerra's functionality and performance. The test products are shipped to customers for further evaluation and testing after they add their own seasonings and flavorings.
An available library of plant-based recipes created in the lab includes 20 meatless formulations and more than a dozen for meat extensions. These offerings replicate red meat, poultry-based items such as chicken nuggets and seafood including "crab" cakes. But there are endless possibilities when ProTerra is part of the formulation. For example, a customer recently collaborated with the MGP team to create prototypes of "duck" nuggets with textured pea protein and "lamb" burgers using textured wheat.
For customers who prefer "hands-on" product development, there's also the option to visit the "Meat" Lab and work side-by-side with MGP experts. That was the case pre-pandemic when a customer with a very specific need, along with their distributor, spent a day working side-by-side with members of MGP's R&D, operations and sales teams. The assignment: Prepare and produce prototypes to create a gluten-free "meat" product using the customer's own formula that contained ProTerra textured pea protein.
Throughout the day, the teams worked together to develop three gluten-free items: nuggets, patties and sausage links. All sustained processing and production well and resulted in quality products.
The customer later remarked: "Being able to use the facilities of the "Meat" Lab and to work jointly with MGP's team helped us validate our new product concept and allowed us to move fast on our project."
While 2020 and the pandemic disrupted some new-product development plans, the market outlook for plant-based meat alternatives remains strong. Food formulators who need to get products to market quickly need look no further than the MGP "Meat" Lab and the experts behind it. Whether they require an existing formulation or want to explore taking their own recipe to market, MGP can help. For more information on plant-based prototypes or a future visit to the lab, please contact us here.