Yvette Hirang
Foodservice Culinary Manager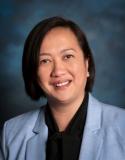 Yvette Hirang joined the company in June 2020 as the Culinary Chef for MGP Ingredients, where she collaborates with the R&D team at the MGP Technical Center. She develops food recipes for all of MGP's ingredients, with a special emphasis on applications for textured plant-based proteins for the foodservice channel.
A Certified Sous Chef, Ms. Hirang brings a unique blend of talents in culinary arts, sales, communications, marketing and strategic management to the role. She also is ServSafe Certified.
Most recently, she was a culinary and sales consultant with Reinhart Foodservice. Her additional work in food service included sous chef with SAGE Dining Services, which serves independent and private colleges, and the culinary program at Johnson County Community College in Kansas. She also held sous chef positions at several Kansas City-area country clubs and is a chef instructor at the Culinary Center of Kansas City. 
Ms. Hirang received an AAS (Associate of Arts & Sciences) degree in Culinary Arts/Chef Training from Johnson County Community College in 2012. Prior, she obtained a B.A. in Communications, Advertising and Public Relations from Ateneo de Manila University and a MMT (Master's in Management Technology) from DeLaSalle University in Lipa, Philippines.