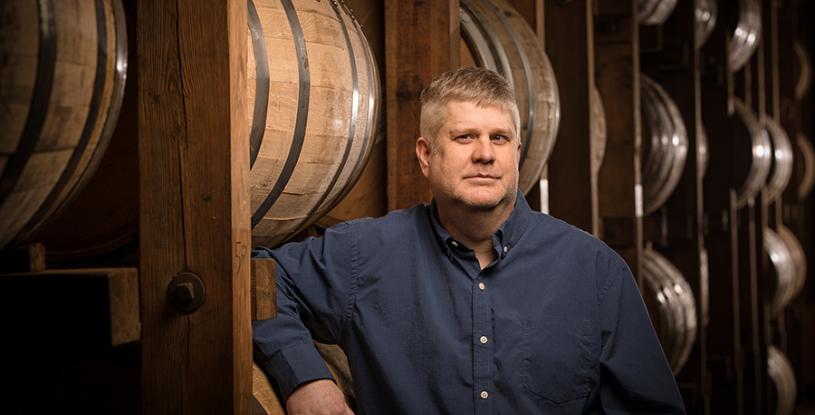 Get to Know Us
Interview with Ray Furman, Master Distiller and Fermentation & Yeast Manager.
Somehow Ray Furman made his way from a well-known wine and brewing region to MGP's historic distillery in Lawrenceburg, Indiana. Along the way, he performed quality control on diapers. These days, he's a self-taught expert on fermentation and distilling.
Meet Ray.
Why do you do what you do?
I grew up in upstate New York, in the Finger Lakes Region. My exposure to distilling was limited to concentrating alcohol by freezing point vs. boiling point as we would put our hard cider in the snow and isolate the portion that did not freeze into something we called "skull thump."
In 2000, I was at a professional crossroads and had to choose whether to continue working for a great company by the name of Proctor &Gamble performing quality control testing on paper products or pursue an opportunity with Seagram performing quality control. I choose to do what I do because beverage alcohol production is something I truly have enjoyed for 20 years that utilizes my education and experience.
What part of your job do you consider crucial that others might overlook?
I believe the work done in the yeast lab at Lawrenceburg is crucial. Others might overlook this and feel that the yeast is best left to commercial yeast laboratories. I feel that no one will find a crew that handles yeast preparation for the purposes of spirits production better than our team.
If you could spend spend time distilling at home, what album would you listen to?
For the preparation of the grains, yeast, cooking, and fermentation I would want something that really gets my blood flowing and puts some pep in my step. Perhaps some old school Metallica, Ride the Lightening or Master of Puppets. For the distilling portion, something more mellow like some good blue grass music or maybe Pink Floyd The Wall.
What's your favorite distilled spirit?
I'm biased, anything produced in Lawrenceburg, Bourbon.
What do you do exceptionally well?
I have an ability to stay calm in stressful situations.
What are you passionate about?
Yeast and fermentation are my passion. Distillers have been producing great whiskeys for a very long time and demand is at an all-time high. With the pressures of increased demand, it is especially important to explore new technologies that allow increased throughput, yield, and reduced environmental footprint without sacrificing the traditional proven methods of producing quality whiskey that consumers demand.
Who has had the most influence on your career?
I was very fortunate when I started with Seagram because I was surrounded by people with 40-plus years of experience. I was able to absorb a lot of knowledge just by working with these individuals and observing what they did. In 2007, I remember a conversation with former Master Distiller Greg Metze where I was asking for one- on- one training with him. His response was "no one trained me." He followed up by explaining that it was critical that I simply take the initiative to get involved as much as possible and learn from my mistakes. This was some of the best advice I've ever had.
What has been the most rewarding part of your time at MGP?
That would be working midnight shift as a shift manger. The transition from quality lab technician to production shift manager was a challenge. I was frustrated as a lab technician because I was monitoring processes I knew little about and was unable to contribute much to improving them. Moving into production allowed me to learn the processes and make larger contributions.
What's the biggest difference in distilling today versus when you started?
The biggest difference in distilling today versus when I started would be the variety and types of products. When I started, the bottling house had a wide variety of products with the ready to drink malt-based beverages and several flavored vodkas and gins. New versions were being developed and launched every year. Vodka was big but whiskey was not at high demand. The distillery ran three main mash bills all the time. Today, our packagers are still challenged with an expanding portfolio. We can help them select from more than a dozen standard mash bills, create a custom mash bill, or develop a medley of existing whiskeys to distinguish their brands.
What's the biggest misconception about your job and MGP?
There is a general misconception that MGP is a large industrial factory that produces mass quantities of goods. We are misperceived as the opposite of craft distilling with full automation and little human impact. Yes, we use some large tanks and equipment producing large volumes of product, but each barrel produced starts with a small vial containing yeast cells and each step of the process is as closely monitored and controlled when compared to any other producer of any size.