Matt Krusemark
Vice President of Distilling Solutions Sales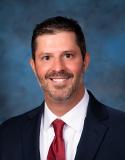 Matt Krusemark assumed his current role as Vice President of Distilling Solutions Sales in January 2023. 
Mr. Krusemark is well-versed in all aspects of the company's alcohol business. He joined MGP in 2005 as an inside sales and customer service representative and was promoted in 2010 to Inside Sales Manager for food grade and industrial alcohol. When the company acquired the historic former Seagram's distillery in Lawrenceburg, Indiana in 2011, Mr. Krusemark added brown spirits sales to his responsibilities and was named Alcohol Sales Manager. He was promoted to Alcohol Sales Director in 2021. 
Mr. Krusemark received a Bachelor of Business Administration degree from Kansas State University in 2004 and an MBA from Benedictine College in 2005. He is a native of Atchison, Kan.